<![if !IE]> <![endif]>

Merula GmbH
Wormser Str. 108
55239 Gau-Odernheim
Germany
+49 67339483120

+49 67339483121

List of product entries
This exhibitor shows the following products and commodity groups:

Company & products
Products
Our 2021 highlight product: Merula Wipes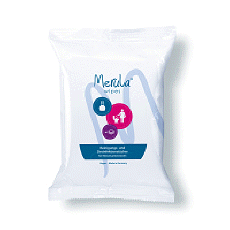 Perfect for on the go – Merula Wipes hygienically clean menstrual cups without needing any water or soap.
Thanks to Merula Wipes, cleaning a menstrual cup on the go is no longer an issue: With the soft wipes you can not only easily clean the menstrual cup, their disinfecting formula also reliably removes 99.99% of germs.
And what happens with Merula Wipes after use? They can just be flushed down the toilet, which is not only super practical but also great for the environment. Their special material is certified as flushable and therefore dissolves in water within minutes.
Merula Wipes are made in Germany from biodegradable materials and are vegan.