<![if !IE]> <![endif]>

WonderFold Corporation
4339 Rowland Ave
El Monte ,CA 91731-1119
United States of America
List of product entries
This exhibitor shows the following products and commodity groups:

Company & products
Products
W4 Luxe Quad Stroller Wagon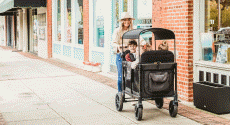 Our W Series multi-function stroller wagon was created for the urban
grind. It consists of seven models, the W1, W2 Original, W2 Elite, W2 Luxe, W4
Original, W4 Elite, & W4 Luxe. These multifunctional stroller wagons can be used
for all occasions!

Our W4 Luxe holds up to four kids. And our W2 Luxe holds up to two. Don't want
to use it as a stroller? Use it as just a wagon. With attachable seats, you can
remove them, and your wagon can hold up to 300 pounds! Want to keep the
seats in? Each bench can hold up to 99 pounds, which is great because kids
have a tendency to get bigger and bigger. Buying a Luxe would bring you a
nice return on investment because you can use it for years to come!

Our Luxe wagons also have an adjustable handlebar and all-terrain XL wheels,
perfect for all your adventures! Whether you're 5'2" or 6'5", we have options for
everyone to push comfortably. And let us not forget that beautiful faux leather
finish handlebar.

We also have canopy options for those sunny days. You can adjust the canopy to
the side during sunrise or sunset. Or, if you don't want the canopy at all, you can
remove it; we have storage in the back for it!

And with our magnetic five-point harnesses, buckling those kiddos in has never
been easier. Babies feeling a bit sleepy, the seats recline. Little ones, these days are
living the life, are they not?

We saved the best feature for last, so many pockets. You can store your diaper
bag, pacifiers, toys, and snacks. We have pockets on the inside. We have
pockets on the outside and even storage space under the seats!
X4MPush + Pull Stroller Wagon