<![if !IE]> <![endif]>

EverEarth Europe GmbH
Pappelteich 24
30539 Hannover
Germany
List of product entries
This exhibitor shows the following products and commodity groups:

Company & products
Products
My 1st Honey Harvest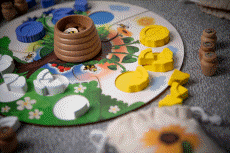 With EverEarth's colour dice game "My 1st Honey Harvest", children can learn a lot about bees, how they collect nectar and produce honey. Thus, an incredibly important topic is packed in a playful and sustainable way.

The aim of the parlour game is to pollinate the blossoms of the different flowers with the bees and to produce sweet honey. This game has a variety of added values, including the training of logic, strategy and motor skills, as well as knowledge about nature and our environment. The little explorers learn to follow rules in a playful way and to lose every now and then. This enables age-appropriate training and early childhood development combined with fun.



Brief instructions:
All players roll the dice to try to fill in the coloured fields pictured on the game board with the matching flower petals. The player who puts down the last petal gets to take a bee token from the beehive in the centre and place it on the flower. They get a small wooden jar of honey as a thank you for pollinating the flower.



Special features:
The fascinating board game, including the game accessories, is exclusively made of FSC-certified wood (FSC® C106741) and is thoroughly sustainable. In addition, there are small jute bags to safely store the accessories. The joyful design of the board, designed by the illustrator Sabine Müller-Waltle, is printed on the board with water-based ink. The choice of colour is based on the perception of the bees. The cheerful flower meadow and wooden petals train the little players' understanding of colours.