<![if !IE]> <![endif]>

List of product entries

This exhibitor shows the following products and commodity groups:


Company & products
Products
Organic Washcloths withfolding mouth - made in EU!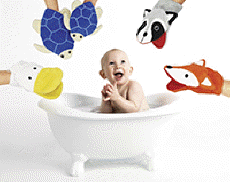 Bathing fun with Organic-Washcloths - made in EU!
Whether penguin, lion or sheep – every washcloth has one mission: to give children fun and pleasure! Not only the cute look, but also the possibility of slipping your hands into the washcloth and thus bringing the animals with the folding mouth to life, turns bathing into playtime and inspires parents and children.
Fürnis is based in Vienna and has been producing their organic washcloths exclusively in Europe since 2014. The organic washcloths are made from high-quality organic cotton, which is GOTS (Global Organic Textile Standard) certified and therefore contains no harmful substances. GOTS-certified organic cotton is guaranteed to be organically grown.
The Fürnis washcloths are characterized by their individual design, sustainability, practicality and most important: Fun!
Our handmade washcloths - made in EU - are made of 100% organic cotton. The seams are of polyester due to the necessary elasticity and tear resistance and help the Fürnis washcloths to last a long time. The embroidery is made of the natural cellulose viscose. This gives the embroidery a special, natural shine and is therefore ideal for decorating our colorful helpers in the bathroom.
fabric: 100% organic cotton
seam: Polyester
embroidery: Viscose
Our products are packed in biodegradable plastic. This is our next step towards sustainability.