<![if !IE]> <![endif]>

Osann GmbH
Gewerbestr. 22
78244 Gottmadingen
Germany
List of product entries
This exhibitor shows the following products and commodity groups:

Company & products
Products
Flux Klimax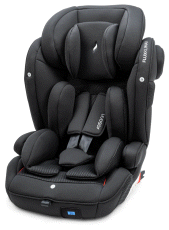 An optimal seating environment for children

Our Flux Klimax stands out thanks to its genuine innovation: the

child car seat provides pleasant cooling on hot summer days

and a cosy, warm seat in winter. The system is activated via an

integrated sensor that responds to pressure when a child is

sitting in the seat. It is operated via the car's power supply. Very

practical: the ventilation or heating is automatically regulated

during the journey depending on the seat temperature that is

measured.



Summer cooling and winter warming

The integrated sensor measures the temperature inside the child

car seat. If this temperature is above 30 °C, the system is activated

and removes the warm air, creating a cooling air circulation effect.

When the integrated sensor measures a temperature of less than

5 °C, the seat area is automatically heated until the inside of the

seat has reached a temperature of 20 °C.



The usual safety and comfort features are, of course, also

provided: in addition to the optional Isofix fitting method, the Flux

Klimax grows with its little passengers and offers an additional

rest position. It also features a removable insert and extra head

pillow for an even more comfortable ride.



What's more, our Klimax series is the first of its kind and

therefore opens up an entirely new chapter when it comes to

seat comfort for children.