<![if !IE]> <![endif]>

Bellini Let's BE natural srl
Via Pangona 46
46019 VIADANA (MN)
Italy
List of product entries
This exhibitor shows the following products and commodity groups:

Company & products
Products
Mediterranean Natural Sea Sponge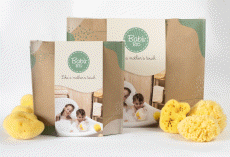 Natural sea sponges are the ideal bath sponge for all skin types, especially the delicate skin of newborn babies. Durable,
long-lasting and soft, they are 100% natural, hypoallergenic and dermatologically tested. Honeycomb Babù sponges are harvested exclusively in the Mediterranean Sea, and are a guarantee of quality and safety. Unlike synthetic sponges, they do not contain additives or perfumes; they are an organic, biodegradable, renewable product that respects both the pH of your skin and the environment. Their antibacterial and antifungal properties prevent build-up of mould and fungus, making them particularly safe and gentle for even the most delicate skin.