<![if !IE]> <![endif]>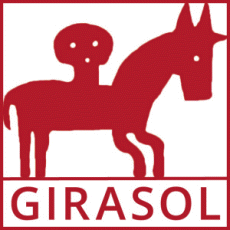 Girasol GbR
Eisenacher Str. 71
10823 Berlin
Germany
List of product entries
This exhibitor shows the following products and commodity groups:

Company & products
Products
MySol® baby carrier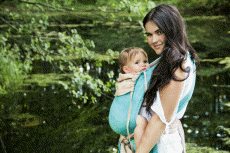 The MySol® is a fully adjustable soft baby carrier that you can use from birth until toddlerhood - safe, comfortable and ergonomic, for babywearing tummy to tummy and on the back. Recommended by healthcare professionals.

The MySol® grows with the child: the seat is easily adjustable - important for the spread-squat position and thus for healthy hip development, especially in baby's first year.
Thanks to the patented back panel extension, the carrier fits snugly and comfortably even after the first big leaps in growth. For this purpose, the hip belt can be threaded into the lower tunnel from clothing size 74/80. The integrated, adjustable hood holds baby's head while sleeping and protects against the sun.The neck area can be adjusted in width. Padded shoulder straps and a padded hip belt make the MySol® comfortable for those who wear it.

Our baby carrier consists of two layers of hand-woven wrap fabric made from 100% untreated cotton. The fabric fits snugly around the baby like a sling and provides optimal support.

The MySol® comes in a practical storage bag with a chest strap for back carry and a practical hip pocket for keys, phone etc.

The variant with a hip belt to tie is a classic Meh Dai - i.e. no buckles on the carrier. No adjustment is necessary when somebody else uses the carrier. A buckle hip belt can be purchased at any time to convert the carrier into a half buckle. However, the MySol® is also available as a half buckle carrier for those babywearing parents who prefer a buckle on the hip belt.

The MySol® was developed by Girasol in cooperation with experienced babywearing consultants, woven and sewn with love by small craft businesses in Guatemala: Babywearing expertise, fair trade and handicraft come together for sheer babywearing joy.
WrapMySol baby carrier
Girasol Ring Sling
Girasol Woven Wrap
Sling Bag