<![if !IE]> <![endif]>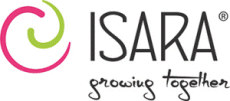 Isara SC Deneris Trade SRL
Tautului Street 21G/1
407280 Floresti
Romania
List of product entries
This exhibitor shows the following products and commodity groups:

Company & products
Products
ISARA Preschooler - Big, Bigger, Biggest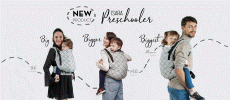 Entdecken Sie den ISARA Preschooler, die kompakte, verstellbare Babytrage, die ohne Adapter oder Transformatoren, sowohl für ein 9 Monate altes Baby als auch für ein 8-jähriges Vorschulkind, angepasst werden kann.
Sie lässt sich innerhalb von Sekunden stufenlos von groß auf ganz groß einstellen und gewährleistet eine ergonomisch bequeme Position für das Baby in jeder seiner Entwicklungsphasen.
Verstellbarkeit
Der ISARA Preschooler wurde mit mehrdimensionalen Verstellmöglichkeiten entwickelt und bietet die Möglichkeit, das Baby vorne, mit parallelen oder gekreuzten Schultergurten, auf der Hüfte oder auf dem Rücken zu tragen.
Die Anpassungen sind intuitiv und das Ergebnis ist eine ergonomische Position, unabhängig vom Alter, von 9 Monaten bis 8 Jahren.
Eine Platte, deren Höhe und Breite den Vorschulkindern eine bessere Unterstützung bietet,
kann auf beiden Seiten passend eingestellt werden.
Diese kann sogar asymmetrisch zwischen 38 cm und 55 cm Höhe abgesenkt oder angehoben werden.
Die Sitzfläche lässt sich stufenlos von 24 cm bis auf 58 cm erweitern und sorgt somit immer für eine ergonomische Position. 
Comfort
Der bequeme Gürtel ist mit hochwertigem Memory-Schaumstoff gefüllt, der ein bequemes Tragegefühl auf einer langen Reise bietet.
Die Trage wurde für einen besseren Halt und Abstand beim Tragen größerer Babys verstärkt. Zusätzliche Beinpolster wurden für mehr Komfort hinzugefügt.
Die Schultergurte sind butterweich gepolstert. Sie merken kaum das Gewichts Ihres Kindes.
Eine Lordosenstütze ist als optionales Zubehör erhältlich, um einen ergonomischeren Komfort für längeres Tragen zu gewährleisten.
Sicherheit
Von Schnallen, Gurten, Gurtbände bis hin zu Klettverschlüssen wird ISARA Preschooler aus hochwertigen Materialien hergestellt, die sogar in der Automobilindustrie für deren Widerstandsfähigkeit und Ausdauer bekannt sind. Die Stoffe sind biologisch.
ISARA entspricht den europäischen Normen CEN/TR 16512:2015. Getestet und zertifiziert für 30 kg.