<![if !IE]> <![endif]>

List of product entries

This exhibitor shows the following products and commodity groups:


Company & products
Products
KAOS Klapp foldable highchair, 0-8 years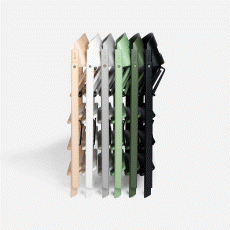 Klapp is a modern design classic that will last the entire childhood. A brilliant sustainable investment, from high quality craftsmanship and quality materials to withstand the test of time.
- High chair for 0 to 8-year-old
- Pawnable accessories made from recycled marine waste!
- Easy to keep clean
- Comes ready assembled
- No adjustment is needed
The KAOS foldable high chair will be a beautiful addition to your kitchen furniture. Its foldable design makes it a great space saver that's perfectly portable too. The fixed ladder is also unique. The ladders invite the child to climb up and down the KAOS Klapp high chair on their own. The child gets ergonomic and active seating, resting the legs naturally at the different steps as they grow. KAOS Klapp high chair for children comes ready assembled in the box. Just unfold the chair, click the seat into locking position and it's ready to use. It's easy to keep clean due to its smooth and solid finish.
Klapp is designed by award-winning Norwegian product designer Ole Petter Wullum for KAOS. Fully certified according to European Standards.