<![if !IE]> <![endif]>

mamalila GmbH
In der Herrnau 3
90518 Altdorf
Germany
List of product entries
This exhibitor shows the following products and commodity groups:

Company & products
Products
Rain Coat for Babywearing Dublin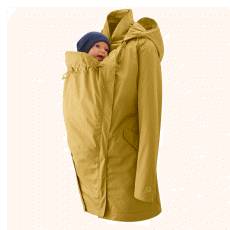 Contemporary weather protection: Raincoat for Babywearing
This raincoat for babywearing is just the thing for all those who want to go out into the fresh air while babywearing - no matter what the weather. An urban raincoat with a sophisticated look that reliably protects mother and child against wind and rain, but without looking like a rain jacket. Its casual style, silky sheen and lightweight feel give it a very special touch, while at the same time the babywearing coat can be wonderfully combined with a skirt or trousers, dressed down or smart, whether it be spring, summer or autumn.

Weatherproof coat for pregnancy, babywearing and beyond

Wind and waterproof, with taped seams at the shoulders and a well thought-out hood for mother and baby, Dublin ensures that both mom and child are protected against cold and wet weather - regardless of whether the child is being carried on the front or on the back, whether in a sling or in a carrier. In addition, the expectant mother can begin using the raincoat during pregnancy: to begin with the waist size can be adjusted so that the coat adapts advantageously to the silhouette. Afterwards, simply zip in the enclosed pregnancy insert and thus expand the coat for the growing baby bump.

But even without the baby bump, baby and zipped-in inserts, Dublin is a feminine, casual raincoat for every day. This concept, that an every product becomes a much loved and worn garment beyond motherhood, is central to mamalila, because longevity is the best form of sustainability.

At the same time, this raincoat is also completely sustainably made, from 100% recycled polyester for the outer layer, combined with an eco-friendly membrane and a skin-friendly lining of organic cotton, plus FC-free impregnation and plastic-free packaging - ex works.