<![if !IE]> <![endif]>

List of product entries

This exhibitor shows the following products and commodity groups:


Company & products
Products
Tuki Learningtower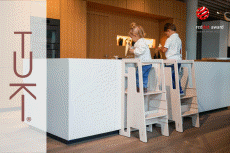 Children's curiosity and spirit of discovery can't be broken – despite the fact, that parents only have two hands and arms to keep their child safe. When children join daily tasks such as cooking, baking or even washing hands, parents have to master the artistry of completing their task while still including their children into those activities. Creative solutions are sought-after for this power-consuming mission!
This is where the Tuki Learningtower comes to help: It's a clever solution to include children into daily tasks while still keeping your hands free. 
How do you benefit from tuki during your daily life?
* It promotes independence in your little ones: Supporting cognitive development through encouragement of a healthy spirit of discovery 
*Your life as a parent becomes easier: More safety with less "hands-on keeping your child safe"
*Children and parents meet on eye level: Physically and emotionally
*Tuki can be used in a variety of spaces in your home
Tuki was developed by two young Swiss entrepreneus and the Swiss designer Stefan Westmeyer. Their work intersects between innovation, high functionality and aesthetic design. These are also the principles that form Tuki's appearance: Ergonomic and edge-free shapes make for a child-friendly aesthetic. The resulting modern and simple design elevates every family home.