<![if !IE]> <![endif]>

Nanit
5th Ave 2nd Floor PMB #2702
New York ,NY 10001-4512
United States of America
List of product entries
This exhibitor shows the following products and commodity groups:

Company & products
Products
Nanit Pro Camera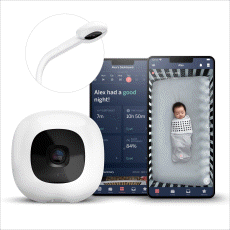 The world's sharpest baby monitor camera with intel that tracks quality of sleep, breathing motion monitoring, and unmissable moments. Skip the sleep coach—Nanit babies sleep 10% longer. That's over two weeks of extra sleep per year.
- The only computer-vision powered baby monitor
- Electronics-free Breathing Band (0-3 months) to enable our exclusive breathing analytics (all sensor and radar free!)
- Access to science-backed support on sleep and parenting
- White noise and soothing sounds
- 2-way audio to speak to baby
- Nanit is the ONLY baby smart monitor with Split Screen - view 2 cameras at the same time!