<![if !IE]> <![endif]>

Rolling Seeds Inc.
401, 125, Yangcheon-ro 30-gil, Gangseo-gu, (737-5 Magokdong)
07595 Seoul
Korea, Republic of
List of product entries
This exhibitor shows the following products and commodity groups:

Company & products
Products
Rolling Seeds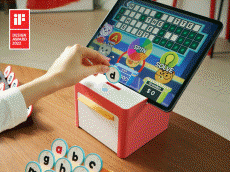 INTRODUCTION
Rolling Seeds is a smart tabletop game platform to play a variety of games by rolling the UI, Seeds, into the main platform, Smart Game Pot, connected by RFID. The apps are played on any smart device connected via Bluetooth. Due to the expandability of the Apps and Seeds new games are continually developed. The design, UI, and action of playing, make it easy for people of all ages to play together. 
SEEDS
Seeds are intuitive physical UI. Made of nontoxic recycled ABS, they have water-based HD resolution UV printed graphics. The Seeds follow child safety standard of 3mm diameter. The Seeds have Braille on them, so people with visual impairments can play games.  
SMART GAME POT
The Smart Game Pot has a simple, interactive UX. Designed with a power button, a smart device mount, a Seed Gate, and a Seed Basket. The smart device is mounted on the device mount, and the Game Pot lets you physically interact with the Seeds and the visual representations of the games on your device.  
SEED TRAY
The Seed Tray accessories provide quick organization so you can get them ready to play whichever game you're on at the time. Each tray holds up to 30 seeds. 
EdTech PLATFORM
The eLearning games are played on the EdTech based Rolling Seeds platform. The games include Spelling Master, Rolling Crossword, Rolling Tree, Rolling Go Fish, Rolling Crazy8 to name a few.  
AWARDS & PATENTS
The patented Rolling Seeds platform is a two-time winner of iF award for User Experience for the year 2021 & 2022.
Patent registered in USA, Rep. of Korea, China, Taiwan, PCT registered.
Design Patent registered in USA, Rep. of Korea.