<![if !IE]> <![endif]>

Tradespot SP. z.o.o.
Galicyjka 7
32-091 Michalowice
Poland
List of product entries
This exhibitor shows the following products and commodity groups:

Company & products
Products
KneeGuardKids - the car seat footrest for kids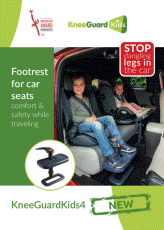 KneeGuardKids, the crash tested footrest helps to maintain the correct position of the child in every high back booster seat whenever travelling by car, regardless of the distance. Footrest eliminates numbness in the child's legs as they will no longer lean against the edges of the car seat which causes pressure under the knees. What's important, KneeGuardKids, when supporting legs, makes the child's back rest against the seat and its head remains within the protected area. It is easy to assemble and adjust to individual needs of a little passenger. It is suitable for children up to 9-10 years old. Suitable for cars with and without ISOFIX. In both cases, the footrest is fixed equally securely. In the event of an accident, it does not move around the vehicle cabin, so it does not pose a threat to passengers. It is recommended for children who kick into the seat in front or experience sore legs and back.
MOST IMPORTANT BENEFITS OF USING THE KNEEGUARDKIDS:
- 100% relieves muscles and joints - the child's legs rest while driving
- Supports proper blood circulation and eliminates numbness in the legs
- Helps maintain a comfortable and safe position in the car seat
- Reduces strain on knees and thighs, prevents cramps
www.kneeguardkids.eu