<![if !IE]> <![endif]>

List of product entries

This exhibitor shows the following products and commodity groups:


Company & products
Products
ADJUSTABLE CHILDREN TABLE AND CHAIR SET LUULA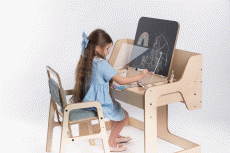 The original design of Luula's Tables is based on the guiding principles of developmental psychology. Easily accessible objects in an accessible place suitable for the child's physiological needs allow the child to plan activities independently. It is adjustable and designed for toddlers from 2 up to 12 years and can be easily transformed into a Table for learning or just playing and offers:
·       When you open the upper part, you can transform it into a blackboard;
·       Inside is possible to store - kinetic or normal sand, books, and small toys;
·       An extra bonus is the transparent plastic board for copying drawings, drawing with marker pens, or making sand drawings;
·       A closed Luula Table is a reliable desk that can also be used to place a tablet or phone if needed;
·       The Table has a table-mounted key that will secure the position of the lifting board in an open or closed position, thereby increasing the safety of use for preschool children, or lock;
·       The Table has a built-in paper roll;
·       On the right-hand side, there are stationery and water dish holders that ensure the storage stability of these items, as well as the ability to store other small items/ toys. They are easy to remove for cleaning.
The raised edges of the table create a sense of individual space and security in their user and attract the attention of children even with increased stress levels. The boxes on the right side of the table create a sense of rhythm and order. That's why the Tables facilitate the work of educators in educational support centers, even when working with children with developmental problems.
Luula Table is made out of ecological laminated very durable natural birch plywood and fully preserves the natural pattern of the wood. The surface is very smooth, warm, and pleasant to the touch. Simple foot frame and fastening solutions ensure the table's durability and stability during active use.