<![if !IE]> <![endif]>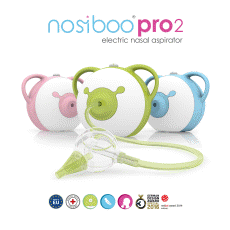 The popular electric nasal aspirator developed by Nosiboo is now available in an improved version, even easier to use! Cleaning the nose has just gotten smoother as Pro2 is quieter, lighter, and comes equipped with a more comfortable button for a quicker start. Everything for the baby's and the parents' comfort. Nosiboo Pro2 arrives with an award-winning, child-friendly design and regulable suction power, not only ensuring effective nose cleaning, but also adjusting to the baby's needs perfectly.

Main features:

safe medical device
quick and efficient
child-friendly design
easy to clean
full control over suction power
patented Colibri head
award winner
BPA-free
premium quality
designed and manufactured in Europe

Siklosi ut 1/1
7622 Pécs
Hungary
Nosiboo® offers the highest quality nose hygiene products for babies & toddlers worldwide.