<![if !IE]> <![endif]>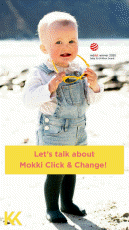 Introducing Mokki Click & Change: A Comprehensive Approach to Children's Eye Health

In the world of active and explorative children, safeguarding their eye health becomes paramount. Mokki Click & Change steps in as a comprehensive solution, addressing the diverse needs of young adventurers.

Children are naturally drawn to the outdoors, engaging in a myriad of activities that shape their growth. However, their developing eyes require special care and protection. Mokki Click & Change steps up to this challenge by offering triple protection for all occasions.

Whether it's for daily wear, frolics in the snow, water-based escapades, or screen time, Mokki Click & Change ensures your child's eyes remain shielded. The innovative Click & Change system empowers you to adapt the glasses to various frames, accessories, and activities, ensuring the utmost comfort and safety.

Our commitment to quality is unwavering. Mokki Click & Change glasses are meticulously crafted and tested in collaboration with children themselves, guaranteeing durability in the face of any adventure your little ones embark upon.

Comfort is key, as uncomfortable eyewear is often discarded by children. Mokki Click & Change is uniquely designed with children's input to guarantee a snug fit, allowing them to enjoy all their activities without discomfort.

The Scandinavian design ethos brings forth not only functional excellence but also a touch of style. Mokki Click & Change has been recognized with international awards, a testament to its innovative and eye-catching design developed in the heart of Scandinavia.

We understand the dynamic lives children lead, and Mokki Click & Change is the holistic solution they deserve. With its triple protection, adaptability, durability, and stylish design, Mokki Click & Change stands as a beacon of quality, safety, and innovation for children's eye health. Choose Mokki Click & Change, and provide your child with the perfect partner for their endless explorations.

Tvetenveien 158
0671 Oslo
Norway
12 Awards in 3 years: Renowned Mokki Click&Change design ensures triple protection for any occasion.